---
News — auction
Posted by Kim Haskins on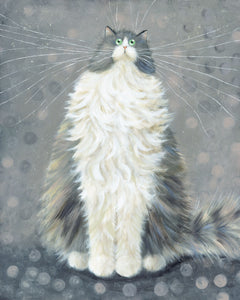 I am auctioning my painting of 'Foggy' - 
bidding ends at 19:00h UK time on November 2nd.
---
Posted by Kim Haskins on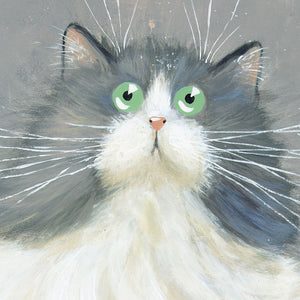 Another big canvas measuring 80 x 100cm, 
Foggy 
is a cat with warm grey, silver and pinkish tones and exceptional whiskers.
---
Posted by Kim Haskins on
Can you give this festive fluffy cat a home? An online auction of the painting is live until Sunday 19 November at 16:30 GMT. Party Cat by Kim Haskins, 2012 Further details: An original painting of a fluffy black cat wearing a party hat. Painted by me, Kim Haskins, with acrylic paint on canvas in 2012. It measures 20 x 20 x 2cm. It is signed on the front, and also signed and titled on the reverse.  Apparently I took no notice of the placement of the hanging fixture when I started painting on this canvas (it's on the side instead...