---
News — purrenting
Posted by Kim Haskins on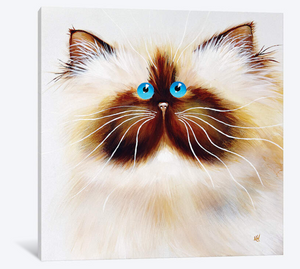 Announcing a new Kim Haskins print range at iCanvas (with free shipping for US customers!)
---
Posted by Kim Haskins on
A brand new collection of glossy greetings cards featuring my paintings has just been launched at the 2017 Spring Fair in Birmingham, UK. The range includes some fluffy favourites as 'Plum' and 'Purrenting' and is published by TomCat Cards. So far I know they'll be for sale online and in shops in the UK, USA, Australia, Canada, Finland, France and The Netherlands, but I hope to have more information about stockists soon. I will also be stocking some of the cards on this website too! For trade and stockist enquiries, please contact tomcat@tomcatcards.co.uk or call +44 (0)1243 837300.  
---
Posted by Kim Haskins on
Some of the following images are featured illegally on products (mainly cross stitch kits) currently being sold on Amazon, and I am attempting to report them. Excuse the watermarks - they're just for proof of ownership on this blog post: Posie and Domino Charlie Flash Mog Multicoloured Purrenting by Kim Haskins, 2012 Knickerbocker by Kim Haskins, 2014 Seacat by Kim Haskins, 2011 Godzilla by Kim Haskins (pictured here as a signed print) 2012 Bess and Boots by Kim Haskins, 2014 Butch by Kim Haskins, 2011 Plum by Kim Haskins, 2012 Foss by Kim Haskins, 2011  Spartacus by Kim Haskins, 2012 Felines For You Ginger Family of Fur Maisie...