---
News — ginger
Posted by Kim Haskins on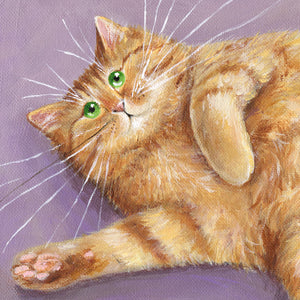 This painting was commissioned by a woman whose mother was the companion of this handsome orange tabby named Jasper. The mother sadly passed away in 2019 and her daughter didn't hesitate to take care of Jasper herself until he crossed the rainbow bridge in late 2020.
---
Posted by Kim Haskins on
Two new feline goddess paintings are available for autumn 2016. Discover all my latest paintings for sale in the Original Paintings collection. Please remember to select 'special delivery' at checkout on all original artworks so that I can provide a tracked, signed and insured service. If you have any questions please don't hesitate to contact me. Athena by Kim Haskins, 2016 Price: £180 Starring a ginger and rainbow tabby fluffy cat peering out against an opulent background of turquoise.and light-catching flecks of gold leaf. Painted on 8x8" canvas in 2016; signed, varnished and unframed. Can be hung framed or unframed, or stood on...